F-250 (F250) Diesel Twin Life Ambulances (1996 to 2009)
Ford Australia had an on-again off-again relationship with the F-Series over the years and that relationship had soured by 1992 when they stopped importing them.  This left a black hole in the Australian specialist ambulance body building business, as there was no Australian made commercial vehicle with the load carrying capacity that could be used to produce heavy ambulance combinations.  While there had been attempts to produce ambulances based on the Holden Commodore utility, the load carrying capacity was never going to come up to the 3.5 tonne plus capacity of an F-Series Ambulance.
To fill the gap various private companies in Australia started to import Ford F-Series trucks, convert them to right hand drive, and have them compliance approved to Australian Design Rules
The F-250 diesel was fitted with the 7.3 litre power-stroke diesel complemented by a four speed automatic transmission.  There were still using the same Javelin designed fibreglass modules, but like Ford and the F-Series, the relationship between Javelin and St.John at Fulham had moved on.  Les Brazier sold all of his remaining jigs and fixtures to Maugham Thiem1.  Maugham Thiem commenced fitting the modules to the newly imported F-250 diesel cab-chassis
<![if !vml]>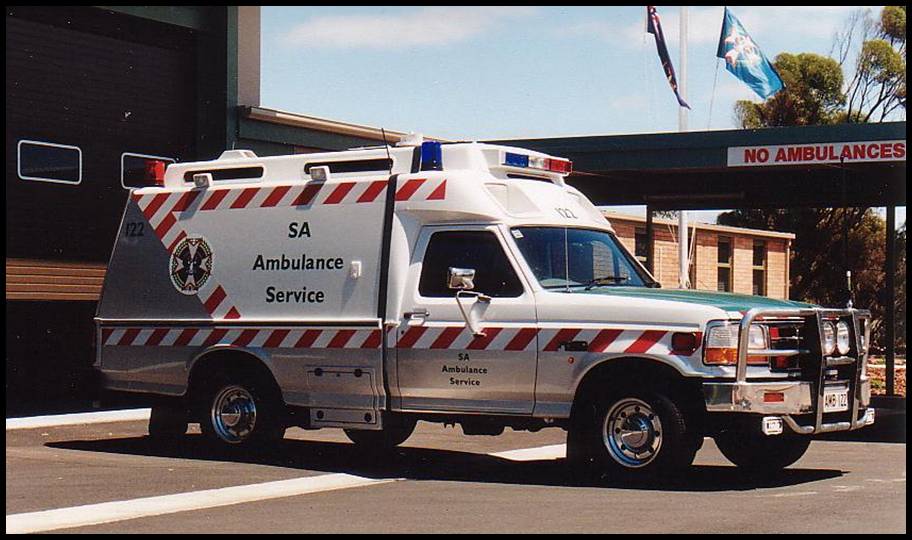 <![endif]>
Fleet 122 an F-250 Diesel complete with Gitsham Bull-Bar, rectangular side lamps and silver, white, and green SA Ambulance Service livery (Photo supplied by Steve Schuler).
Given that St.John and SA Ambulance have generally kept each of their vehicles for 200,000 km, it is conceivable that some modules have travelled over 600,000 km as many of the grove arch bodies were still in the fleet on the last cab version used, the 1998 F-250 7.3 litre diesels.
<![if !vml]>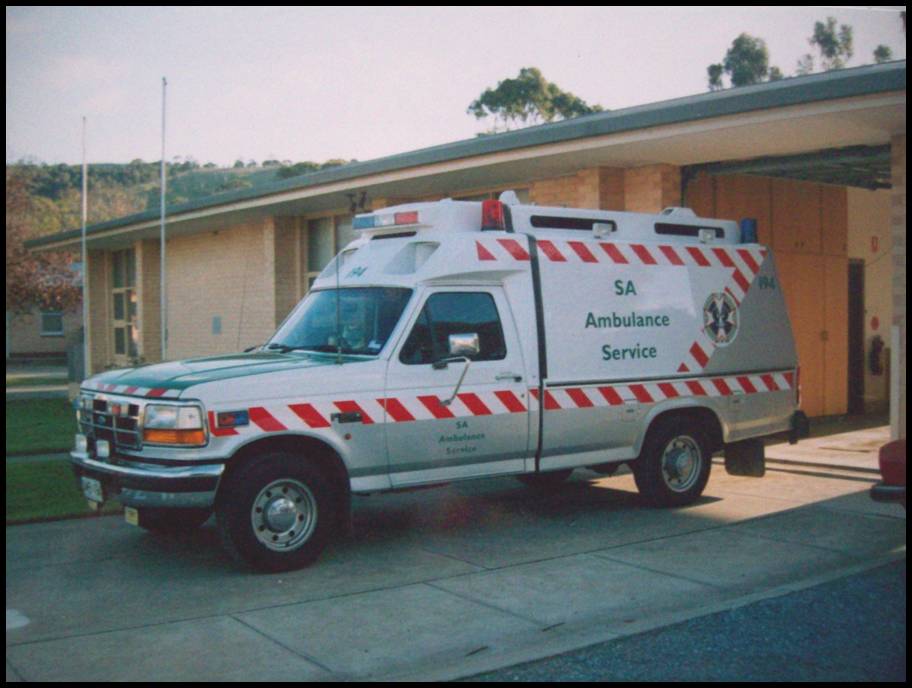 <![endif]>
Fleet 194 an F-250 Diesel with rectangular driving lights above the front bumper and fog lamps below and a red a blue repeater lamp on the front mudguard.  This is an earlier F-100 style Twin-Life module (Photo supplied by Kevin Marsland).
<![if !vml]>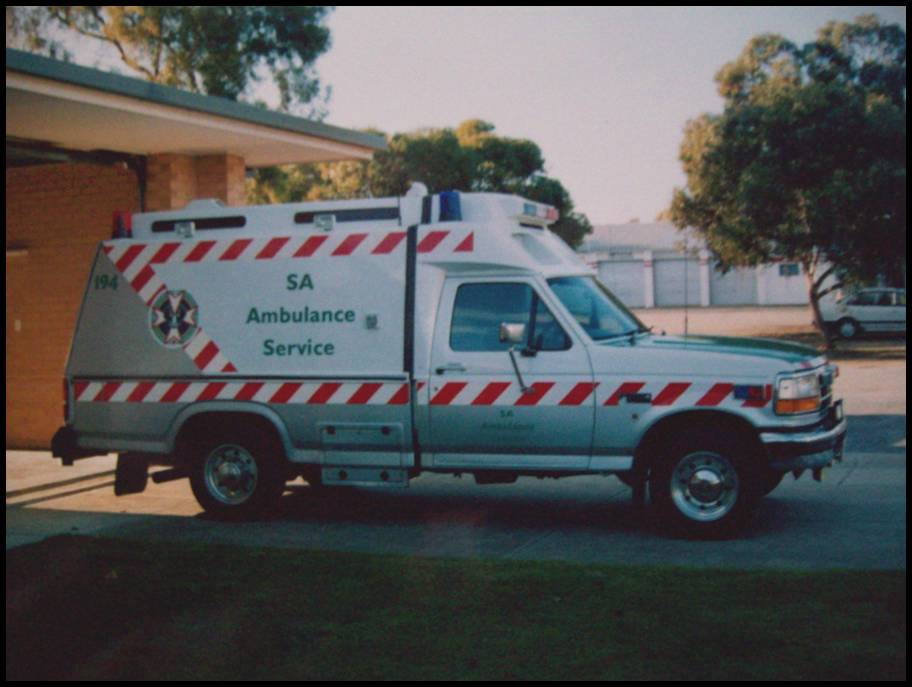 <![endif]>
Another view of Fleet 194 (Photo supplied by Kevin Marsland).
<![if !vml]>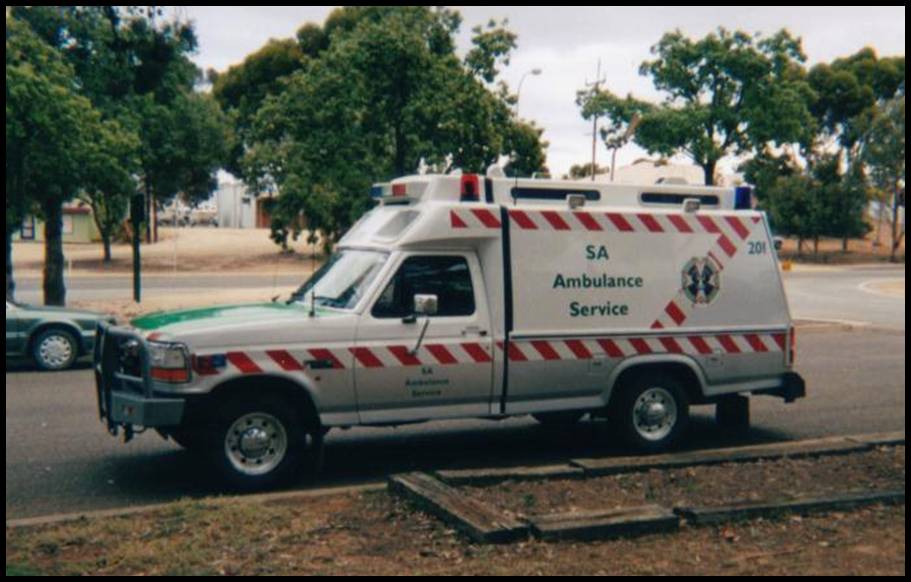 <![endif]>
Fleet 201 in green and silver South Australian Ambulance Service (SAAS) livery with the diagonal red and white reflective stripe.  This is an older F100 utility-based module that is still in use and possibly on its third life. The front roof vents have changed to fixed scoop ones, and the sidelights are rectangular.
<![if !vml]>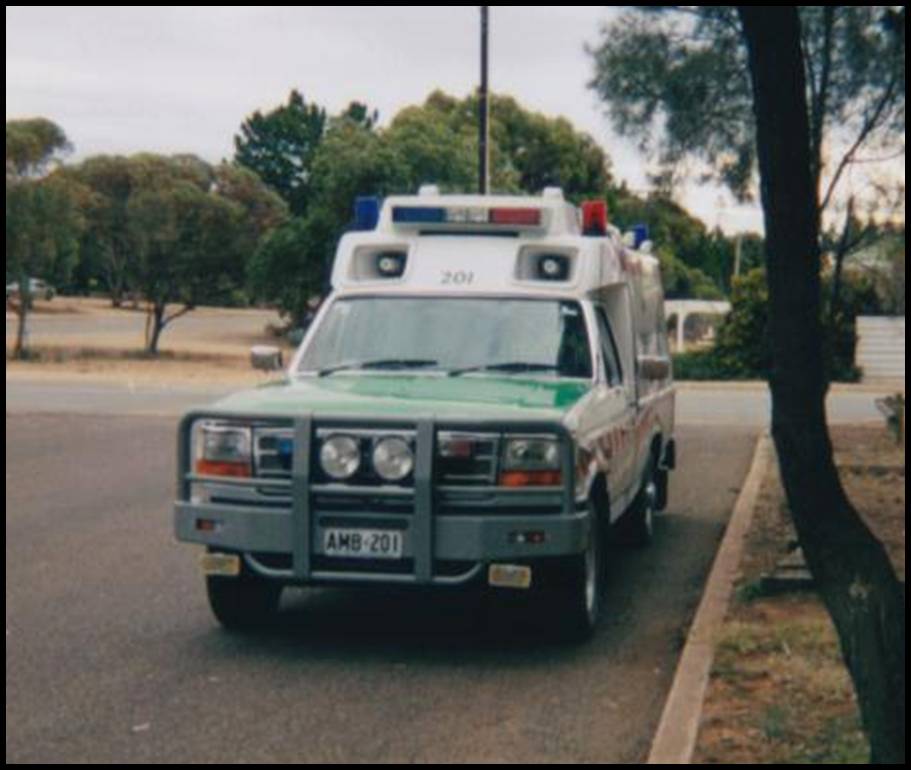 <![endif]>
Fleet 201, the bull-bar shows this to be a country car with fog lamps under the bumper. By this time SAAS were using AMB number plates. The shiny green bonnet looks very smart and the LED bar on the top of the module above the speaker boxes is also visible. To correspond with the LED bar there is also a red and blue repeater behind the bull-bar.
<![if !vml]>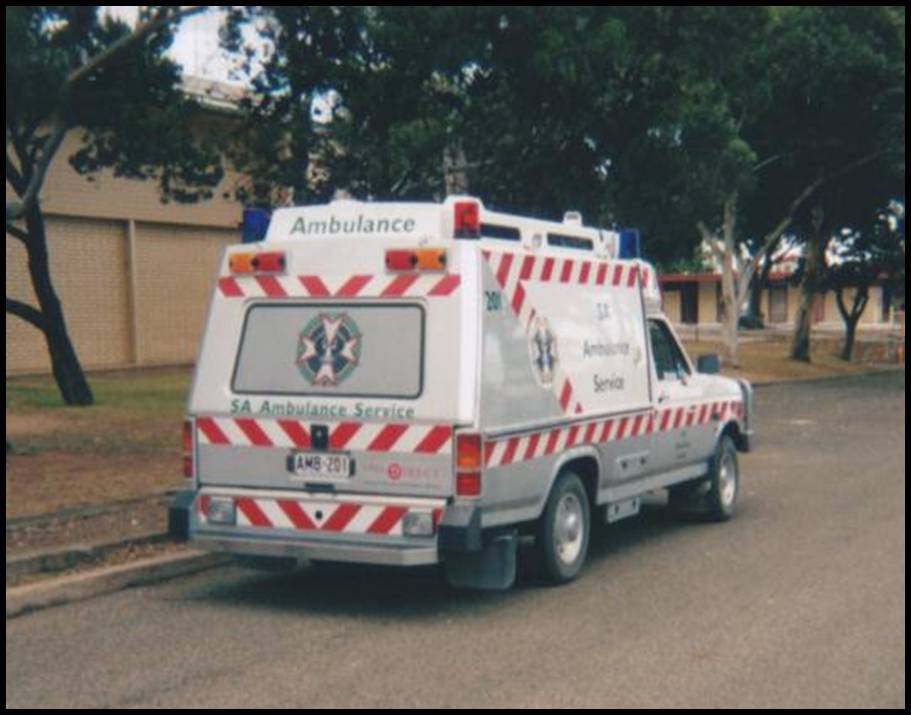 <![endif]>
Fleet 201, rear view showing the fixed step, similar to Fleet 351, the SAAS badge on the screening on the rear window, and the rectangular high level brake lamp and turning indicator.
<![if !supportLists]>1. <![endif]>Maugham Thiem was so named from the surnames of Alfred Ross Thiem and Frederick Milton Maugham who took over the existing Behrens and Marshall Partnership.